---


Top Boston Headshot Photographer, MA
In search of a fresh, modern professional headshot in Boston? I'm here to help! I have been doing headshots for years now. I meet people from very different professions: doctors, actors, writers, corporate executives, entrepreneurs, local business owners, and everyday people. Even if you don't believe you're photogenic, rest assured I'll deliver beautiful images that will capture your unique style and personality.
Why Are Headshots Important?
Whether you're a lawyer, a CEO, or an aspiring musician, a headshot is essential. It gives people an idea of who you are and what you're like before they meet you. A headshot also conveys your professionalism to potential clients, investors, and employees.
Most importantly, a headshot that you love increases your self-confidence and can even inspire you to take risks, share yourself with others, and overcome challenges. It's a powerful tool that can open doors to new opportunities.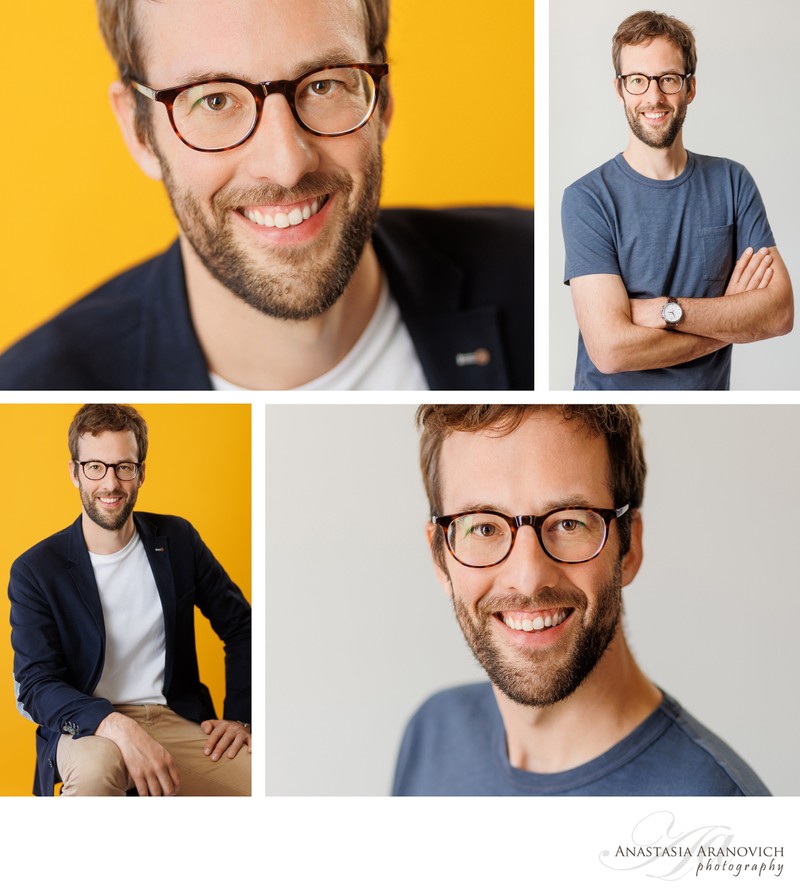 For actors, dancers, models, and other performers, your headshot is your business card, and having a crisp, clean headshot can potentially get you called for an audition! Your headshot should convey what you physically look like and capture different sides of your personality. Models need a close-up of the face, a three quarter length photo, and a full body shot. For actors, a close-up of the face is essential.
How to Prepare for Your Headshot Session
To ensure the best possible headshot, I recommend that you dress simply. Your profession, industry, and how the headshot will be used will dictate the best clothing options for you. You might choose a formal suit and tie, a business casual sweater, or even a t-shirt. We'll discuss this before your photoshoot.
Ladies, I suggest taking the time to do your makeup and hair. It doesn't have to be professional if you feel confident in your abilities. Guys, a fresh haircut, clean shave, or trimmed beard is always helpful. You are welcome to bring a few different tops or shirts so we can capture a diverse set of images.
If you're unsure of clothing choice, send me a picture, and I will provide you with my honest opinion. The general rule of thumb is that if it's distracting in any way, don't wear it. We want the headshot to be about your face and confidence, not about your wardrobe. Avoid busy patterns and "loud" colors for business photos.
It's also important to get a good night's sleep the night before and stay hydrated to ensure you look well-rested.
When to Book Your Headshots
As a headshot photographer in Boston area I know that people have busy schedules, that's why I photograph business portraits any day of the week, in-studio or on-location. For companies who need consistent headshots of multiple employees, I can come to your workplace to minimize the time your staff is out of the office.
After your session, images are ready in three business days. Rush options are available.
---
Corporate Headshots & Business Portrait Pricing
Preliminary discussion of location, wardrobe, and style of photos
30 - 45 minute portrait session in-studio or on-location (travel/location fee applies)
Images presented in a personal online gallery within 3 business days
Includes 3 retouched high-resolution digital files
$350
Additional retouched digital files are $45 each
---
Contact Your Boston Headshot Photographer
If you're interested in putting your best foot forward with new headshots, don't hesitate to contact me today at (571)331-1105 or via my contact form.