---


Newborn Photography in Boston, MA
If you are looking for newborn photography, chances are that you are still expecting your baby and have yet to discover just how precious your itty bitty human will be when you meet them. You will find yourself in love when you see your baby's tiny toes, little fingers, and perfect expressions that resemble you or your partner. You will be smitten by all the cute noises they make and how adorable they look while peacefully sleeping in your arms.
This newborn stage is sweet, but it doesn't last too long. Before you know it, they'll be sitting up, then walking, talking, and eventually growing up to be a young man or woman! I know it's hard to imagine this now, but we were once this small, too. As a mother of two children, I know firsthand just how fast time can fly.
In my lifestyle approach to newborn photography, I focus on the connection between the new parents and their baby, the love and intimacy of these first few days after delivery, as well as the baby's first home and surroundings.
You can count on me to take beautiful, professional photos that you'll cherish for years because I understand the value of these images. With seven years of experience documenting newborns in the Boston area, I am well versed in newborn safety, swaddling, and soothing, and I know just what it takes to create the baby's first portraits.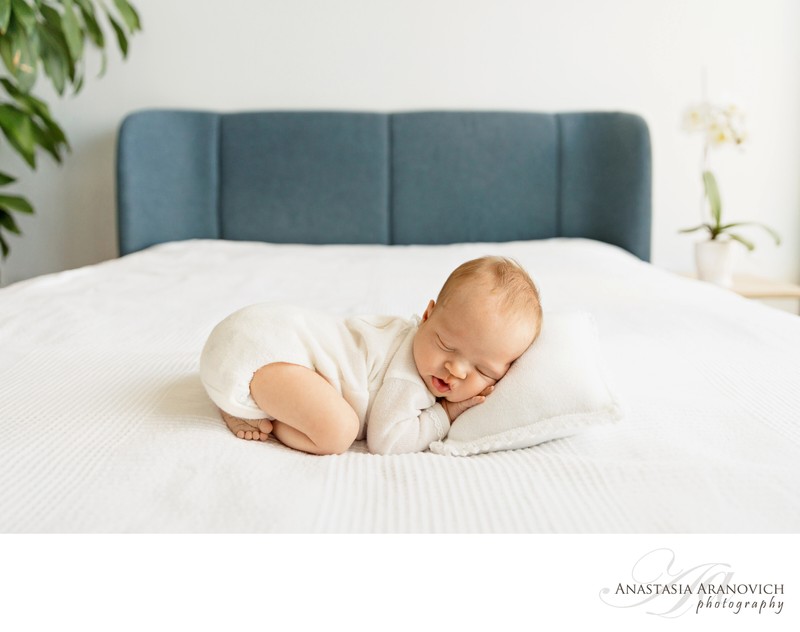 When to Book Your Newborn Photoshoot
Babies change almost daily, and at one-month-old will look completely different than they did at birth. I recommend you schedule your newborn photoshoot anywhere between 5 and 14 days after their birth. If possible, book your session well in advance of your due date so you don't have to scramble once they make their debut into the world. As the date approaches, if we need to reschedule to accommodate early or late deliveries, we can absolutely do that.
How to Prepare for Your Newborn Photoshoot
There are a few things that are important when preparing for a newborn shoot. Rest assured that I will schedule a phone call with you and go over all the necessary steps!
In general, it's a good idea to feed your baby prior to the session and keep him or her awake for about an hour before I arrive. I might ask you to send me some photos of what your rooms look like to get an idea of the windows and the direction of the sunlight coming in. I may also ask you to tidy up certain areas of your home, like the nursery and your bedroom or the living room.
For your clothing, bright neutrals and light-colored clothing are the way to go. Simple outfits made of summer fabrics are appropriate and photograph well for in-home newborn sessions. I recommend keeping your house temperature nice and warm since newborn babies don't like to be cold, especially when we take some photos with exposed skin.
What to Expect During Your Newborn Photoshoot
A lot of my newborn sessions take place in my clients' homes. I find it adds an extra touch of personalization to show the baby's first room, the parents in their home environment, and authentic connections between the growing family. Doing the newborn sessions in-home allows me to achieve all of this while keeping my clients relaxed in familiar surroundings.
I will bring newborn swaddles and props, as well as all appropriate cameras and lighting gear. During the session, I will capture images to help you preserve the memories of the baby's first few days and weeks: just how tiny they look on their parents' bed, the silly faces they make, snuggles with mom, or safely sleeping in dad's arms.
How to Display Your Newborn Photos
Books and albums are the most popular products for parents who book maternity and newborn sessions. Your favorite images from one or both sessions are combined in a customized layout, designed individually for each client.
Cover materials range from classic Italian leather to modern linen. Your album can also include a page with the baby's birth info, announcement-style.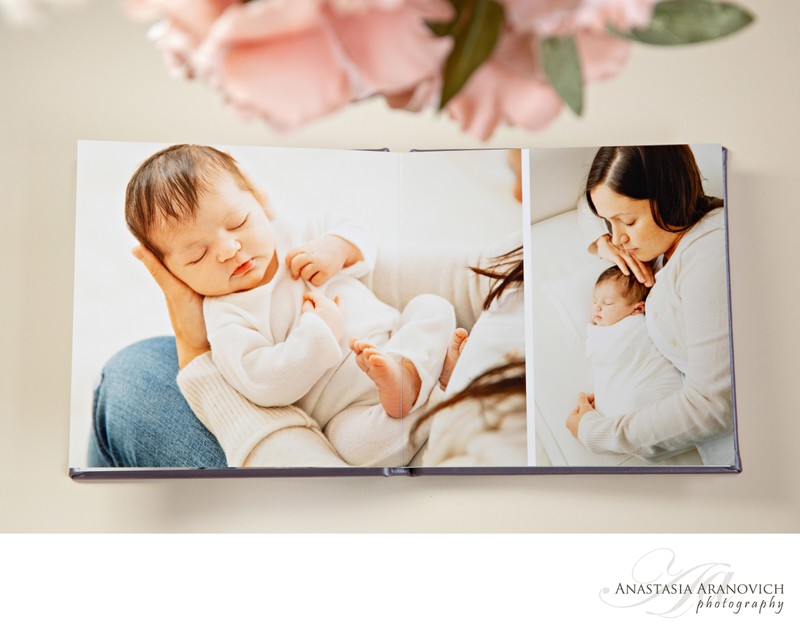 Contact Anastasia Aranovich, Boston Newborn Photographer Today
If you'd like to book your newborn photography session, contact me today! Call (571)331-1105 or fill out my online contact form. Whether you have a newborn already or a baby on the way, I can't wait to hear from you!
---